Are you looking for the perfect acoustic guitar to ignite your child's passion for music? Look no further! We have put together a list of the 6 best acoustic guitars for kids that will inspire their creativity and help them develop their musical skills. 
From classic dreadnought designs to modern parlor shapes, these guitars are sure to please any budding musician. Read on to find out which one is right for your aspiring rockstar!
Quick Glance: Best Acoustic Guitar for Kids
The CNBLUE acoustic guitar is a high-quality guitar for kids made of solid basswood for the top, back, and side. The solid basswood produces a smooth, clear, and vibrant sound. The neck, head, and fretboard are made of hard maple so that they can stand the test of time.
This 30-inch guitar is set with six steel strings that make the guitar sound warm, open, and powerful. Both the bass and treble registers are present and balanced with each other.
With this guitar, kids that are not used to or have never played the guitar before have a good chance of loving guitars.
The chrome-geared tuning head is easily adjusted to keep the guitar in tune. These smooth tuning pegs make learning acoustic guitars for kids easier on their own.
If you're looking for a complete all-in-one acoustic guitar set for your child, the Pyle has you covered.
It has everything your kid may need to start playing, including a gig bag case, spare guitar strings, a digital guitar tuner, a cleaning cloth, guitar picks, and a detachable guitar shoulder strap.
The guitar is handcrafted, featuring construction with a linden wood body, birch headstock, rosette linden laminate finish, high gloss polished body with protective binding, dyed maple wood fretboard, and chrome 3-in-line machine head.
The overall quality of the guitar is impressive, and it is excellent for use in lessons, rehearsals, recitals, practice at home, or on-stage performing.
Both beginners and kids looking to begin playing guitar are encouraged to look at the Pyle acoustic guitar.
The donner guitar is a 3-string acoustic guitar that will get the best out of your kid straight from day one. While other guitars may have complex chord shapes that make learning challenging, the tri-pop has three strings specifically designed for beginners.
The design provides an easier way to understand basic techniques and 3-string chord shapes. Also, the soft carbon strings and a 2.7cm wide fretboard are suitable for a child's small hands without causing callouses or blisters to the little fingers.
The guitar's resonance is improved with a maple soundboard and bridge reinforcements, producing a sweet and powerful sound.
If your kid travels with you a lot, this donner guitar is perfect for them. It is lighter than a full-size guitar and easy to pack and carry. The guitar is also easy to handle and comes in six beautiful colors.
As a professional brand in musical instruments, Rosefinch offers creative and high-quality guitars for kids and adults.
The Rosefinch 38″ acoustic guitar for kids includes six strings made of high-quality steel, producing good sound quality and stable pitch.
The guitar's back and side panels are made of quality basswood. The wooden structure makes for a clear and vibrant sound. The polished paint on the surface of this guitar makes it look glossy and noble.
Being a guitar meant for kids, Rosefinch ensured it was easy to play. The guitar is praised for its comfortability and smoothness when playing it. Your child can use it on many occasions, such as lessons, rehearsals, practice, and so on.
This guitar comes in a complete set so that your young one doesn't have to encounter unnecessary challenges. The set includes a capo, a durable nylon bag, a shoulder strap, and extra strings.
If you're looking for durability in the guitar you want to buy for your child, look no further as we show you the Monkey 38″ acoustic guitar.
The exquisite craft in this guitar sets it apart from other acoustic guitars. Its body of solid basswood, neck of Okoume wood, ABS fingerboard, and non-scratching frets make the Moukey acoustic guitar a durable purchase.
The 38″ dreadnought guitar produces a rich, clear, and vibrant tone suitable for all styles of music.
The nylon strings on this guitar are nice and soft, ensuring no harm is caused to your little one's fingers. This acoustic guitar also has a chord poster to help starters master chords and fretboards.
Before Loog even built a guitar, they first understood that playing it may be a daunting task for most kids out there. They looked forward to solving this.
Kids feel so rewarded and encouraged to play a song on their guitar on the first day. And Loog makes that possible. The Loog mini 3-string acoustic guitar reduces chords to the basic triad, making learning faster and easier.
Another feature about Loog is that the finger placement you learn is applicable on a 6-string guitar too.
This guitar uses the first three strings of the guitar: same strings, same tuning. It allows a smooth transition for kids who advance to using more complex 6-string guitars.
This guitar comes bundled with an app and flashcards that contain everything needed to help your kid learn to play guitar. They also host free live sessions via Zoom! These include thirty-minute training sessions covering basic guitar skills to guide a child who got a Loog.
Should kids start with an acoustic guitar?
Starting kids off with an acoustic guitar is always a great idea. Not only does it allow children to learn the basics of playing the guitar in a relatively simple way, but the lack of electronics or amplifiers also means that their practice can be done without disturbing others in the household.
Learning chords and techniques on an acoustic guitar is also a great way to start developing skills needed for more complex arrangements, as well as giving them an authentic sound that other instruments may not be able to replicate.
The feel of an acoustic guitar is also much better suited to smaller hands than some electric guitars, as the body of the instrument is usually smaller and lighter. This not only makes it easier for young children to play and hold the instrument comfortably but also gives them more room to maneuver when learning new techniques and chord shapes.
Unlike electric guitars, acoustic guitars do not require large amounts of equipment or additional items such as amplifying devices or effects pedal stockpiles. This means that even with a modest budget, parents can purchase an affordable yet reliable instrument that will still allow their children to create quality music and hone their craft over time.
Also, with no cords or power sources required (unless you want to use pickups) acoustic guitars are extremely portable – ideal for young players who want to take their music with them wherever they go!
What is the best age to learn acoustic guitar?
Learning to play the guitar is an exciting and rewarding experience. But when it comes to finding the right age for your child to start learning, there are a few things you should consider.
While some kids may be ready as early as five or six years old, others may not be mature enough to take on such a challenging instrument until they're older.
The best way to determine when your child is ready for acoustic guitar lessons is by assessing their interests and abilities.
How to choose an acoustic guitar for kids?
Firstly, the size of the guitar should be appropriate for their body size and posture. For example, a 3/4-size guitar is typically suited for younger children and those with smaller hands. A 1/2-size guitar is best for very young players, while a full-size guitar would suit older kids or those with larger hands.
It is also important to pay attention to the quality of the instrument's construction and sound. Opting for an acoustic guitar made from solid wood will allow your child to produce better sound as they progress in their music journey.
Similarly, look out for guitars that have been constructed using high-quality materials such as steel or bronze strings. If you can find a pre-owned instrument that has been used gently by its previous owner, then this could be a great option too!
In addition to finding an appropriate size and quality of the instrument, it is important to consider your child's personal preferences when choosing an acoustic guitar for them. Allow them to try out different types of instruments at local stores to find one that fits their style and playing comfort level.
Finally, if you're considering investing in more expensive accessories such as picks or straps ensure you buy quality accessories that will last your child through their musical journey.
How big is a 3/4 size acoustic guitar?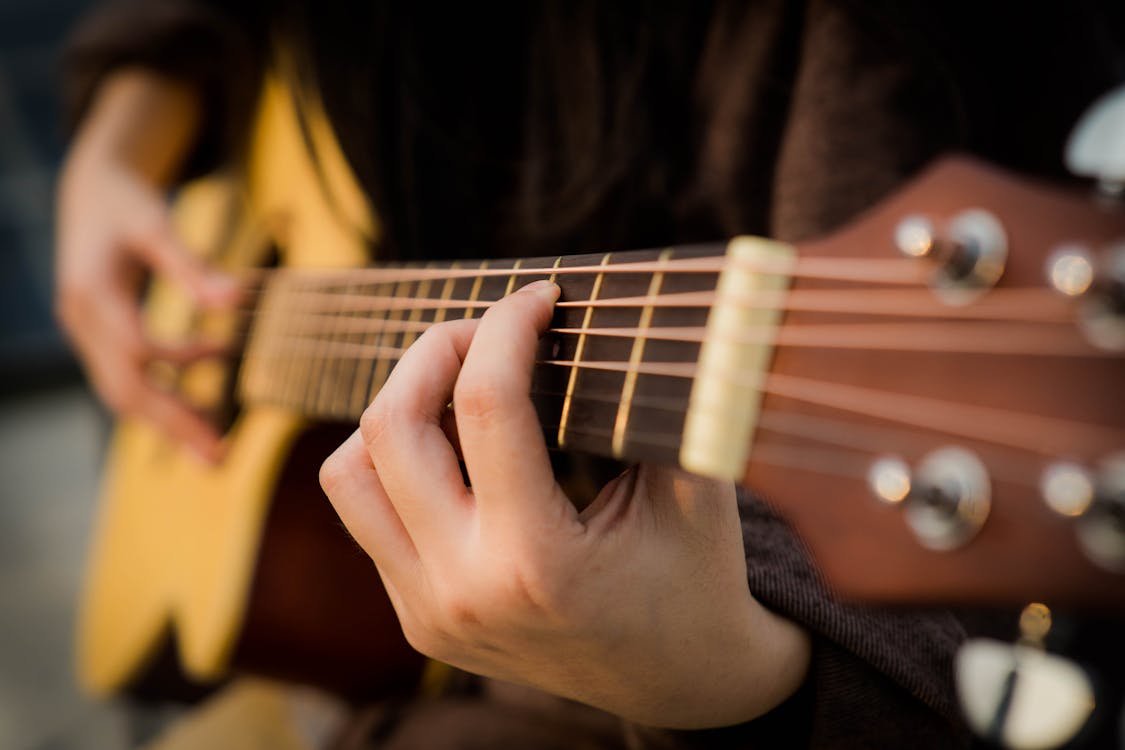 A 3/4 size acoustic guitar is a great option for kids who are just starting. As the name implies, these guitars are roughly three-quarters of the scale of a full-size acoustic guitar, making them easier to hold and play comfortably. 
The shorter scale length also helps young players develop proper fretting technique and accuracy with chord shapes. On average, 3/4 size guitars measure around 24 inches in scale length, which is about one inch shorter than a full-size guitar. The depth of the body is typically around 3 ⅝" – 4 ¼" with a generally narrower width than an adult-sized instrument. 
When it comes to strings, most junior guitars use light gauge strings (or "extra light") that are easier on smaller hands while still providing enough tension and resistance to produce good sound quality.
It's important to note that Junior guitars are designed to be used by children, not adults; they won't necessarily have all the features and appointments commonly found on adult-sized instruments such as truss rods or adjustable bridges.
How long should kids play acoustic guitar?
Ideally, younger children should start with five minutes of practice each day, slowly increasing the amount of time as their skills improve.
As a general guideline, children aged 8-12 should aim for at least 15 minutes of practice a day and those aged 13-17 should practice for 20-30 minutes.
Setting aside a regular time each day dedicated solely to practicing will help them stay motivated and increase their confidence as they become more familiar with the instrument.
The continuous practice also helps children remember muscle memory and develop better dexterity over time. This means that they will be able to learn new techniques more quickly and be better equipped to handle more complex arrangements in the future.
Does an acoustic guitar sound better with age?
Yes, an acoustic guitar can sound better with age. As the wood and other materials of the instrument adjust, its sound will become more resonant and beautiful over time.
The longer an acoustic guitar is played, the more it will open up and mature in sound, even if it hasn't been well taken care of. The strings on a guitar also change with time, becoming less tight and having a mellower feel that can give the instrument a softer, more complex tone that many players prefer.
The aging process of an acoustic guitar also has a lot to do with environmental factors such as temperature and humidity levels. These can affect the tuning stability of the strings, as well as how the wood responds to playing over time.
Storing your acoustic guitar in a climate-controlled environment is key for preserving its original sound quality for years to come.
It's important to note that some guitars are made using woods that naturally have better tonal properties than others – such as rosewood or mahogany – which can contribute to their improved sound quality over time.
Additionally, high-end models typically use more advanced construction techniques that allow them to produce clearer and higher notes even when they've seen years of wear and tear.
Final Word
Childhood is such a crucial period if children are to realize their dream of becoming pro guitarists. They may not find time to learn in their teenage years or adulthood. It is better to get them hooked at the tender age.
The list above on the best acoustic guitars for kids features some of the best guitars available to unlock the huge potential in your little one. Get the one that suits them and watch their passion grow even further!